Small-government events coming up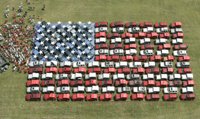 Continue the momentum of the tea parties in April. Our biggest concerns are, first, the growth of government control of our economy - of every aspect of life - in higher taxes, higher spending and just plain control.
Media's mask slips as deficits surge - IBD
Second, specifically the takeover of health care. They now say they don't want single-payer health care. But they are trying to hide because the light is on them. They have been saying for years they want it. The bills they are putting together now are the steps toward government control of your health care.
Health care is not that complicated - American Thinker
The intent of the tea parties is to get people energized. To see you are not alone; there are thousands of us. To get people connected. Here are some upcoming events:
Sat. June 27 - 10 am - Tea Party - Olympia at Heritage Park
Contact: olympiateaparty@gmail.com
Fri. July 3
Tea Parties
at Monroe and Prosser
Sat. July 4 Tea Parties at Seattle Olympia, Bellevue/Mercer Island, Bellingham, Tri-Cities, Clarkston
See Teapartywa.org
Fri. July 17
- Rally in front of the district offices of our senators and congressmen. I don't have a link now.
Hat tip: Kirby Wilbur
Posted by Ron Hebron at June 18, 2009 06:58 AM | Email This