Smart Car Quest Proving Dumb
DaimlerChrysler introduced the hugely fuel-efficient, tiny Smart car in 1998.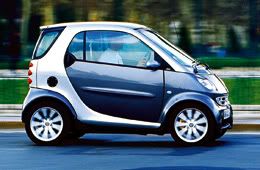 The Seattle Times reported earlier this summer it had yet to make money for the company but a top exec felt a new Smart two-seater U.S. sales initiative planned in early '08 would draw customers who question the status quo and seek individuality. More recently, the Times reported that Green imbibers gathered to quaff organic beer and wine, nosh and schmooze Greenly at a Kirkland Smart car showroom. But Forbes columnist Jerry Flint, a former senior editor for the magazine who's been writing on the auto industry since 1958, says the Smart has been a big money loser and is a lousy ride. Flint notes several years ago, a top DaimlerChrysler exec told him Smart losses had reached $3 billion. Flint adds since then DC took another $1 billion write-off on the line; and sales have stayed close to half initial production capacity even though Parisians and Romans love it. A new partnership to market the car in the U.S. via Roger Penske's United Auto Group is savvy, Flint says, but sales will still be a tiny fraction of the U.S. market and the Smart is scary to drive.
No doubt, there will be lots of publicity in New York and Los Angeles, featuring celebrities in their politically correct little cars. But the Smart is too small for the U.S. The present model is just 98 inches long. In contrast, the Mini is 144 inches long; a Chevy Impala is 200 inches. I have driven a Smart, and it can get scary. Entering a freeway with a Smart is not a pleasant experience, and you don't want to be alongside a Chevrolet Suburban when the driver suddenly decides to change lanes.
Nonetheless, if you're moving into one of the new 296-square foot condos being built in Seattle, a Smart could be just the thing, socio-politically. Myself, I'll stick with my Honda CRV, thanks. It actually has room for children, and can just tear up those Forest Service roads.
Posted by Matt Rosenberg at September 01, 2006 03:57 PM | Email This