Federal Trial Starts For Seattle Animal Rights Hoodlum
The Trenton, N.J. federal trial has begun for animal rights thug-provocateur Josh Harper of Seattle, and his cohorts. In reported collaboration with SHAC (Stop Huntingdon Animal Cruelty), they've allegedly played a central role in a campaign of personal terror including threats and attacks on the homes of New Jersey employees of companies affiliated with British-based Huntingdon Life Sciences, which conducts medical tests with animals.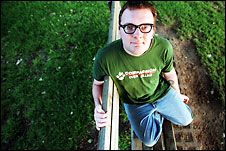 In this AP report on the trial, published yesterday, Harper (pictured, right) tells prosecutors that breaking windows, vandalizing property, and breaking into offices of animal testing companies are justifiable "direct action," given the "righteousness" of the cause. He does, however, express regrets about a 2002 animal-rights-related smoke bomb episode in downtown Seattle, which did not win his allies many fans.
Seattle-ite Harper faces a felony count of conspiring to commit animal enterprise terorrism, which could bring up to three years in prison, and a fine of up to $250,000. At the time of his arrest and release (preceeding link), one supporter present was from the Northwest Animal Rights Network. NARN has offices in Ravenna and believes eating animals is comparable to The Holocaust (scroll down here to "Consistency In Compassion Campaign.") Harper was profiled by the P-I in 2001.
Seattle animal-rights activist Josh Harper sees "a spark of hope in every broken window, every torched police car and every mink running free as their hearts desire." For the 26-year-old anarchist, those acts are necessary to achieve his ultimate goal: "The complete collapse of industrial civilization." Harper hopes for a return to small communities of people producing only the food, clothing and shelter they need to survive.
It is tempting to write off "animal rights" and eco-terrorists as wackaloons so far gone as to be irrelvant, but their efforts are far-reaching and their movement growing. The Northwest remains a central breeding and staging ground for animal rights criminals, and eco-arsonists. Just yesterday, two Olympia eco-activists were indicted in Tacoma on multiple counts of arson at an Oregon tree farm, and for carrying and using incendiary devices during the attacks.
SHAC is part of a larger global web of anti-science, anti-human fruitbats promoting violence and mayhem against companies and employees engaged in medical testing using animals.
Peaceful protest is one thing. What the animal rights hoodlums do is another. The P-I profile notes Harper had testicular cancer, but it went into remission. Gee. I wonder if that's due to Big Pharma drugs developed with the help of animal testing?
Posted by Matt Rosenberg at February 24, 2006 11:17 AM | Email This