What Are You Thankful For?
As you've probably gathered by now, it's the day before Thanksgiving. The United States of America is a land of plenty, of freedom, and opportunity. It's the world's greatest nation - and not just because our military kicks butt, and we invented rock and roll.
So....I wanted to ask you what you're thankful for. Maybe your wonderful family; tax accountant; business partner; or anger management counselor.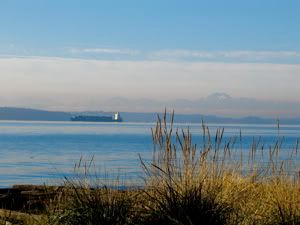 Maybe a constitutional amendment; an actual deficit hawk in Congress (is there one?); or something smart and right that government did (ummm..........?). Or maybe a place in the Northwest; a food; a philosopher or writer; your cordless drill; or a historical event. Or something else.
I'll start. I'm thankful for:
today's sunshine break from all the fog (right), plus the beautiful surroundings in my adopted home of Seattle.....it beats the heck outta Chicago, let me tell you;
my wonderful wife and children, and our home and neighbors;
cities - they make civilization go 'round, even if their politics are screwy;
food on the table, the right to bear arms, and a free press;
my grandpa Jacob's flight from Ukraine, and the things my father taught me;
free markets and electric guitars.
Your turn now. C'mon, give it up.
Posted by Matt Rosenberg at November 23, 2005 03:45 PM | Email This