Density: Not Just For Blockheads
A lot of my fellow Seattle-ites, especially liberal Democrats and Greens, have a sneering and dismissive view of the suburbs and suburbanities, straight out of the 1960s counter-culture. Split-level homes, strivers, drivers, highways, malls? A package deal of bland conformity and greenhouse gases destroying the planet; mindless lackeys of the imperial warmonger Bush (never mind all those Ds in Bellevue, Redmond, Mercer Island and Issaquah). Seattle's self-proclaimed intellectual elites, nattering to each other as they walk around crowded Green Lake, compound their ignorance with membership in The Church Of Open Space. It espouses a dogma that - in King County, for instance - any development east of Sammamish is a crime against nature. And so, at the far end of the spectrum, you occasionally even get "environmental activists" trying to torch new homes in the 'burbs.
But just as suburban and rural property owners are entitled to their vision of the good life, so too are we in the city. Part of my vision, and it's unfolding as we speak, is vital city neighborhoods with their own retail hubs and room for vertical growth. One thing that entails is multi-family apartment development. When Seattle Mayor Norm Rice and the city council began pushing "urban villages" in Seattle in the mid-90s, an opposition movement sprang up in my neighborhood of West Seattle. I knew many of the people involved. They feared multi-unit buildings wedged into neighborhoods of single-family homes. None of that happened. Now, instead of plotting secession, they're shopping in the neighborhood. And I'm here to tell you: urban density isn't just for blockheads.
Read on.
Urban density has certainly been fostered by the state Growth Management Act, and local governments.
But as multi-unit residential buildings sprout all over Seattle, here's what I see: free market forces at play; along with a growing need to expand parks, boost police and fire protection, and provide more and better transportation options.
Quality of life in Seattle has a lot to do with neighborhood amenities; this is a big part of why many Republican families I know choose to live here despite private school tuition and the smugly censorious, self-righteous Seattle Left.
The West Seattle Junction was pretty much a dank hell-hole when my wife and I moved here from Chicago in 1994.
Unless you liked to shop for used Ted Nugent records and Harley gear at Dogmeat's, sip lattes at Stubby's, or play bingo in a huge empty building that's now a PetCo.
These days, California Avenue S.W. in The Junction has undergone a retail renaissance, and a score of new apartment buildings just to its south add to the critical mass.
That's Great Harvest Bakery (left), flanked by Arts West theatre on the left.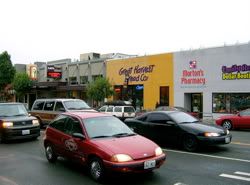 Just one tiny slice of what's going on in The Junction these days.
With new restaurants opening almost monthly, The Junction is something to see on summer nights. The streets are alive; they used to be dead.
And "eyes on the street," as Jane Jacobs noted in "The Death and Life of Great American Cities," are crucial for crime prevention.
Along Alaska Ave. S.W., leading into The Junction from Fauntleroy Way S.W. and the West Seattle Bridge, the vitality evident a few short blocks west on California is sadly lacking.
But "dense" development seems likely to change that. Here's a shuttered ex-Burger King on Alaska (below, far right).
Pretty hurtin.'
Just west, on the same, north, side of Alaska, at the corner of 42nd Ave. S.W., stands an especially decrepit structure (below, right).
As you can see from the telltale public notice sign, plans are afoot.
In this case, for an eight-story, 165-unit residential building with ground floor retail and parking for 371 vehicles in the building and below grade.
Across the street is Seattle Housing Authority apartment of the same height, and right on Alaska are about five different bus routes going downtown.
It'll be a boon to the neighborhood.
As is this (below): a new condo complex at 41st Ave. S.W. and Edmonds. It's a more typical four stories, with ground floor retail or office space planned.
Right across the street from Jefferson Square mall where all the necessities of life are within walking distance: a big grocery, UPS store, Bartells, Taco Del Mar, bookstore, pizza, coffeeshop, cigar shop.
I'm all for taller residential apartment buildings downtown, a priority of Seattle Mayor Greg Nickels.
We're already looking at high-rise, mixed use complexes including apartments, under construction in downtown Bellevue.
We've got densely clustered townhomes in Issaquah, and yes, rising housing costs all over the region.
"Affordable housing" policies in Seattle amount to some subsidized housing and some units in new apartments at 80 percent of market rate. Affordable housing in the suburbs these days means Monroe, or Pierce County, or Kitsap County. That's life: the market rules.
Yes, the Growth Management Act means we can't build tightly-packed subdivisions all the way to Cle Elum. I have some problems with King County's Critical Areas ordinance, but not with growth management.
The challenge now is dealing with the pressures of density. Especially in the transportation realm.
When it comes to density, the train has left the station. So to speak.
Posted by Matt Rosenberg at October 14, 2005 10:52 AM | Email This